http://robotica2017.isr.uc.pt/index.php/en/competitions/major/autonomous-driving
The Autonomous Driving Competition is a competition held in Portugal for fully autonomous robots that takes place in a track with the shape of a traffic road, surrounded by two parallel side lines and including two lanes separated by a dashed midline. The competition, starting in 2011, includes two independent classes designated \Rookie Class" and\Expert Class". Each of these classes has its specic set of rules and particular competition organization, that also corresponds to different levels of challenge and difficulties to overcome.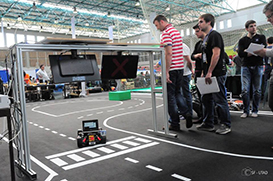 The Autonomous Driving competition constitutes a medium complexity technical challenge in which a mobile, autonomous robot must traverse a route along a closed track which resembles a conventional road.

We are a team of 6 members (5 contestants and our supervisor) that have been training very hard to qualify to the Autonomous Driving 2017. And now we need your support to be able to make it to the world finals and be one of the Arab region representatives.
We need a total of $1200 to cover the traveling expenses of the team. Each $200 will cover the traveling ticket of only one team member. We need to be able to cover the expenses of the seven of us to achieve better results and represent our region.
If you can't contribute in funding our team but still convinced with our campaign. Don't worry! you can still support us by sharing and spreading the word about our campaign among your friends and in social networks. Your contribution means a lot.